ITS HISTORY, PRODUCTS AND PROCESSES
<![if !vml]>
<![endif]>
Major Lewen Tugwell photographed in 1963
(photo courtesy of Angela O'Sullivan)
3: Major Lewen Tugwell - the man behind the product
<![if !vml]>

<![endif]><![if !vml]>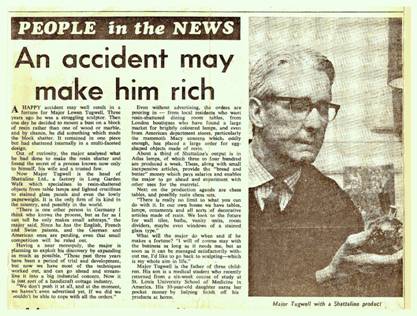 <![endif]>Shattaline, as a process, was discovered by sculptor and inventor Lewen Tugwell of Bridgefield, Farnham, a retired major in the British Army, who had served in the UK and India. Lewen ("Major Tugwell" to his face, but affectionately known behind his back as "Tuggy") was a talented sculptor of life and abstract pieces (three times exhibitor at the Royal Academy) and had begun experimenting with cast polyester resin. This required a hardening agent or catalyst which, when accidentally mixed incorrectly, caused a crazing or "shatter" within the casting. Instead of being annoyed by this, Major Tugwell recognised the attractiveness of the shatter and set out to reproduce the effect under controlled conditions. He found that, to get the exact type of shatter he desired, temperature and amounts were critical. Once the formula was set, he patented the process and registered Shattaline Ltd as a Limited Company to manufacture and market the wares. His wife Joan was a Director of the firm and managed much of the business side, Major Tugwell taking charge of the creative and manufacturing elements. He was the only director of the company to be almost always present at the factory, very much a "hands-on" member of the team. This newspaper cutting, kindly provided by Major Tugwell's daughter Angela, is an interesting account of the company's beginnings. Click here or on the picture to enlarge it. As an aside, his unusual name led, in one instance, to an excellent piece of work by Royal Mail staff, who successfully delivered a letter from abroad addressed just to "Shattaline, Lower Tugwell, England"! A short film of Maj. Tugwell is available for download from the British Pathé News website at Ballad of The Bard. This shows Maj. Tugwell presenting an inverse sculpture of Shakespeare in the playwright's 400th anniversary year of 1964. In the background can be seen one of Maj. Tugwell's abstract pieces (see photo on right, © British Pathé News and used with permission), which later stood at the rear (Darvill's Lane) entrance to his former Bridgefield home from the mid-1960s until it was sadly destroyed either by vandals or the then owners of the house in 2005.
After the move of Shattaline to Scotland, Major Tugwell underwent some "lifestyle changes", indirectly leading to the demise of the company (see Page 2: Introduction). He was reported as "missing, presumed dead" in the Farnham Herald after his clothes were found at the coast in true Reginald Perrin style. But he later resurfaced in a women's' magazine, in a story about how he had found his "true self" by means of a sex change. No-one at Shattaline or in his family had suspected these leanings and it would be a very brave decision now, let alone in those unenlightened times. As his new alter-ego Judy Cousins a new period began, teaching sculpture. In 1983 artist Christa Hunter attended a sculpture course by Judy Cousins, learning also mould making and casting in bronze resin. For many years she shared a studio with Judy Cousins. An overheard snippet of conversation in a Farnham pub in the early 1980s made me smile, perhaps at Judy Cousins' expense; "and when the door was answered I wasn't prepared for his change and all I could think of to say was 'Ohh, Major Tugwell, what a pretty dress you're wearing!'"
Lewen would, I am sure, have also smiled at this. He was a proud family man with a good sense of humour; a singularly talented  artist and craftsman, a fair employer and a good friend to his staff. He and his company are now firmly a part of Farnham's history, and I am proud to have worked with him.
Mike Andrew

Search Engine Optimization and Free Submission