ITS HISTORY, PRODUCTS AND PROCESSES
5: Products
The commonest pieces were table lamps which were marketed through Liberty's and Selfridges and many other well-known shops and boutiques. It is commonly supposed that British Home Stores (BHS) sold Shattaline lamps, but Major Tugwell's daughter Angela has confirmed that this was not the case; Shattaline did not supply to BHS as they stocked lamps from a rival company, whose "Bubble" lamps had air bubbles which rose upwards when the lamp was switched on. Other major product lines were cubic, spherical or dome-topped cylindrical paperweights; many of these were drilled to insert brass candleholder inserts (see photo on home page), mass produced penholders (below) or cigarette lighters (see recognition page) to create further products. There were also egg-shaped paperweights, and cylindrical pieces. An alternative style of penholder utilised the same brass and plastic fitment but the Shattaline base was a thin, flat rectangle with a groove for a pencil or second pen. This was a more attractive desk item than the other penholders but, sadly, quite fragile, so I no longer have one. The candle holders were marketed mainly through Price's Candles. Larger products included tables, which were normally made as a single casting and mounted on a contemporary metal frame; or sometimes from a number of the cubic paperweights, cut in half, sanded square on all sides, joined (usually in a chequered pattern), sanded again, sealed and polished. One exceptionally large such chequered table was commissioned by actress Moira Lister. This created a number of challenges due to its size. The last Shattaline table I saw (other than in a photo) was in the Eldon Hotel, Lower Bourne, Surrey shortly before the hotel was demolished circa 1990. The lamps were drilled for cables and bulb holder and normally sold complete with shade. Reject products were broken into smaller pieces to make a separate range of products (although still under the Shattaline name) such as table lamps, which were constructed by gluing the broken pieces around the central brass power conduit. The resultant products were unattractive to most of us who worked for the firm (and must have gathered a lot of dust) but they seemed to sell quite well. Some of the shattered rejects were also sold loose and got used for diverse purposes such as decorative "gravel" on grave memorials, or refractive "coals" in coal-effect electric fires. The "shattering" was mainly done by a well-known local character called Jack, but most of the sanding staff also had to take turns according to peaks and troughs of work. This was quite energetic manual labour, each piece being placed on a large stone slab and pummelled with a very heavy (28lb) vertical hammer - goggles essential! Sharp fragments would regularly cause minor skin injuries to any unprotected areas, so gloves were worn, together with a scarf or handkerchief over the mouth and nose!  A range of typical (and less-typical) Shattaline products is illustrated below.
A Shattaline Coffee Table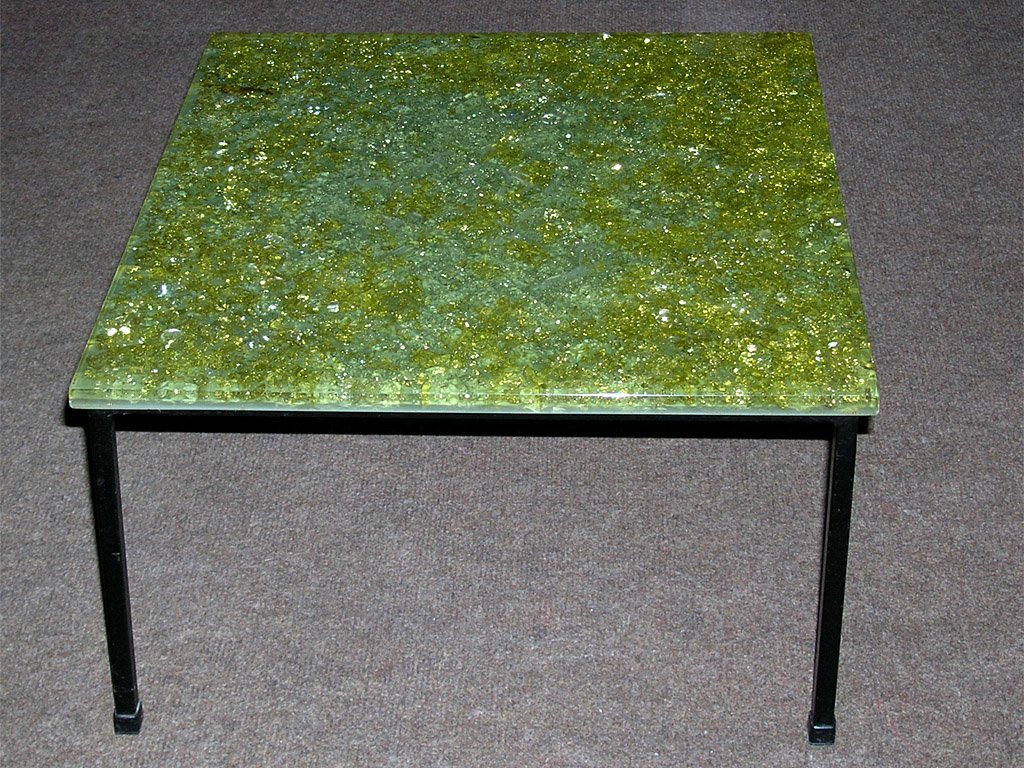 Above: Lime Green Coffee Table. Note the close-textured shatter effect typical of the thinner Shattaline products.
Dimensions:
Shattaline top: 47.3cm x 47.3cm and 1.6cm thick
Overall height: 32.5cm
Photo: © Su Bayfield
Some Shattaline pen holders

Above: Shattaline dome-topped cylindrical penholder.

Photo: M Andrew, item loaned by courtesy of Bob Northwood

Above: Shattaline cube penholder.

Photo: design20c

<![if !vml]><![endif]>

Above: the more attractive version of the penholder.

Some Shattaline lamps

Above: Blue cylindrical base. One of the most popular lines. Blue and orange were the most popular colours for table lamps.

(photo: courtesy of omnipot)

Above: A rare orange lamp base - without a doubt the ugliest Shattaline lamp base I've seen, this was offered for sale in 2007 still with a label stating "Shattaline Products hand made in Scotland". It appears to have been made from 3 cylindrical paperweights and an upturned piece moulded in a dessert bowl!  Was this an example of the products made after Maj. Tugwell's disappearance?

(photo: courtesy of keeler4311)

Above: Orange rectangular Shattaline lamp base - note gold paper Shattaline label still attached. Probably the commonest Shattline product on the secondhand market today.

(photo: courtesy of sonjasays)

<![if !vml]><![endif]>

Above: Another rare design of lamp – it appears to comprise a cylindrical paperweight drilled to receive cabling and bulb holder, the bulb hidden within a top made from recovered chunks, similar to the hanging 'cluster lamps' (see below), so probably from the Woking factory.

<![if !vml]><![endif]>

Above: Shattaline "cluster" table lamps constructed from broken reject pieces (see above).

<![if !vml]><![endif]>

Above: An unusually shaped Shattaline table lamp.

<![if !vml]><![endif]>

Above: Unusual conical table lamp in turquoise.

<![if !vml]><![endif]>

Above: a smaller conical table lamp.

<![if !vml]><![endif]>

Above: a self-explanatory cutting from an unidentified sales catalogue, circa 1970.

Courtesy of  Angela O'Sullivan

Some Shattaline Paperweights

Above: Emerald Green Spherical Paperweight

with open textured shatter.

Approx 3" (75mm) diameter

Above: Lime Green Spherical Paperweight

with close textured shatter.

Approx 3" (75mm) diameter

<![if !vml]><![endif]>

Above: Deep orange egg-shaped paperweight.

<![if !vml]><![endif]>

Above: Light orange rounded-top cylindrical paperweight.

Above: Orange Shattaline bookends.

Above: Emerald green Shattaline bookends.

<![if !vml]><![endif]>

Above: Bookends made from recovered chunks embedded in moulded resin.

<![if !vml]><![endif]>

Above: An aesthetically less pleasing pair of bookends using recovered chunks

Above: Orange pot stand.

Approx 5¼" (135 mm) in diameter

The label reads "A Shattaline Product Hand Made in Scotland. Heat Proof"

Above: Set of 4 orange coasters.

Approx 3½" (89 mm) in diameter

<![if !supportMisalignedColumns]>
<![endif]>
Unique Visitors:

superannuation Counter

Search Engine Optimization and Free Submission