ITS HISTORY, PRODUCTS AND PROCESSES
6: Unofficial Products
In addition to the range of official products and occasional commissioned "one-offs", some personnel occasionally experimented with their own designs for personal use, and these were known as "homers"! One such example can, after all these years, now be revealed in the picture below! Steve writes:
"I'm not sure exactly what the cylindrical pieces were used for (possibly one of the many styles of candle holder made for Price's Candles) but broken sections were regularly cut into short lengths using an angle grinder, an old penny was then polished and cast into the top section to make a simple ornament/paperweight. These were never commercially available but I was not the first nor the only perpetrator of this questionable process. I was lead to believe that using coins of legal tender in the manufacture of ornaments was an elicit act. Luckily the photograph can now be reproduced legally as the coin in question was a 1967 penny".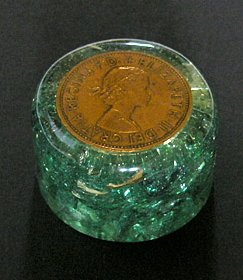 Penny Paperweight "Homer"
Dimensions:
diameter 4.4cm; height 2.8cm
Photo: © Su Bayfield
Unique Visitors:

superannuation Counter

Search Engine Optimization and Free Submission