ITS HISTORY, PRODUCTS AND PROCESSES
<![if !vml]>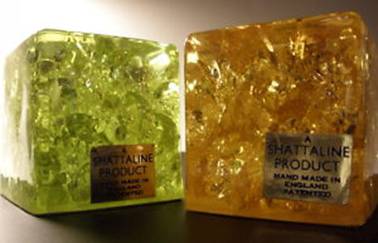 <![endif]>
Shattaline paperweights
1: Summary
SHATTALINE Limited operated from the mid-1960s for about 10 years. Products were a craft-made range of decorative items including paperweights, pen holders, candle holders, tables, table lamps and table lighters. The manufacturing process was discovered by Lewen Tugwell, a retired major in the British Army and talented sculptor from Farnham, Surrey (UK). These items have become collectable but little is known about them, so this site seeks to redress that. Please click on the "next page" button or the individual links below for more information about the process, products and people involved, together with many photos of Shattaline products and some similar items from their imitators.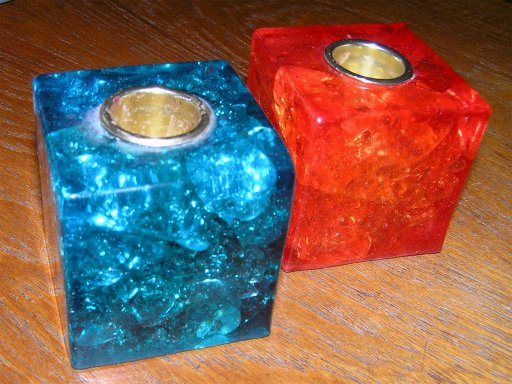 Shattaline cube candle holders
Photo: © Mike Andrew 2020
Preface to the 2nd (revised) edition
Itís now more than 5 years since I created this site, and I have received a lot of feedback and additional additional information. I would like to thank everyone who has contributed, especially Angela OíSullivan, daughter of the firmís founder Lewen Tugwell and her mother, the late Mrs Joan Tugwell who has recently passed away. All links are identifiable by their blue underlined text. I hope anyone returning to the site enjoys the changes and I look forward to receiving any comments, corrections or reminiscences about Shattaline. If you find any broken links or have any constructive comments, please let me know - Mike, March 2011

Web page designed and constructed by Mike Andrew; all text is copyright © Mike Andrew 2020 or as credited.
Photos are copyright as credited.
Any person mentioned above who objects to their inclusion or wishes to correct the information, please contact me. News of former staff is welcomed.